Jim Macnutt wins national award for book
April 2018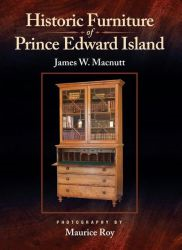 Kirk Elder Jim Macnutt has won the Canadian Museums Association's 2018 Award of Outstanding Achievement for his 2017 book, Historic Furniture of Prince Edward Island. The 352 page book contains 750 beautiful photographs and field note sketches. It describes and analyses a wide range of Island-made and imported furniture, covering 200 years of PEI history.
Said Jim Macnutt, "The bulk of the furniture that is illustrated in the book is made here on Prince Edward Island so you've got a range of what is called primitive … straight through to very top end, very high furniture." The pieces covered in the book range from late 18th century furniture, to that made in the early 1900s. "The furniture tells a very, very distinct story and the story is it reflects the economic conditions of the province … the degree of wealth. It also reflects the education, knowledge and information people had of the outside world."
According to reviewer Canadian Antiques & Vintage Magazine: "You need this book! There, I've said it. Yes, I know I'm supposed to be cool, calm, dispassionate. This is a book review, after all – so just the facts, please. And yet, with this book, I find that impossible. You get it all in this book: scholarly research, detailed explanation, stories behind the Island's furniture-making traditions, including the people as well as the pieces, plus a plethora of wonderful images."
The Kirk congratulates Jim on his most recent publishing accomplishment, and wishes him continued success.
Kirk Choral Scholars in National Youth Choir
April 2018
The Kirk's four Choral scholars, Tara Llewellyn, Melissa Lewis, Ian Soloman and Gaige Waugh, have all been selected to join the National Youth Choir for 2018. All four study voice in the Music Department of the University of Prince Edward Island.
The National Youth Choir of Canada was founded by Choral Canada in 1984, for singers between the ages of 18 and 25. Every two years a quartet from each province or territory, representing the four voice parts, is selected to participate. The choir has won critical acclaim across the country since its inception and has done numerous recordings, as well as appearances on CBC Radio.
Our Choral Scholars will need to raise about $1,700 each to offset the cost of performing in the National Youth Choir, and to that end will be organizing a number of fund raising activities over the next few weeks. You are encouraged to offer them your support in this enterprise. Should you wish to do so, you can also direct a personal donation to our Choral Scholars by seeing Tara Llewelyn after Sunday service. Your support will be greatly appreciated and will help to facilitate a once-in-a-lifetime experience.
During 2018, the choir will be under the direction of Jeff Joudrey, Artistic Director of the Halifax Camerata Singers, which he founded in 1986, and Chorus Master of the Symphony Nova Scotia Chorus. He is also the Music Director at Trinity-St. Stephens United Church in Amherst, Nova Scotia. Dr. Phil Roberts, Co-Founder and Co-Artistic Director of PlayPianoNL and pianist of the Trinitas Chamber Ensemble, will serve as the choir's accompaniest in 2018.
Lady Baker's Tea Trolley becomes Kirk tenant
April 2018
Kirk member Katherine Burnett has moved the back-room part of her successful tea business, Lady Baker's Tea Trolley, into facilities in the Kirk's basement.
A member of the Tea and Herbal Association of Canada, Katherine has been operating her tea business for a decade. She mostly sells wholesale in the Maritimes, but also provides teas for sale at the Charlottetown Farmer's Market and through her online sales outlet at: ladybakerstea.com. Recently her teas have been winning markets elsewhere in Canada, especially in Alberta and Saskatchewan locations, while her website sees a lot of American custom. Her company's premium loose leaf teas (black, green, white, oolong and herbal) are ethically produced at the finest tea gardens in Asia and Africa. The business produces approximately 40 custom blends, some of which incorporate dried berries grown right here on PEI. Lady Baker's Tea supports Fair Trade and the Ethical Tea Partnership.
One of Katherine's popular products is the Post-teas, a trademarked item that is a decorated postcard that holds enough tea for two cups of loose tea and two sachets. It is a product designed especially for those who want something different than a simple postcard to send to acquaintances while on holiday.
Katherine will use her space at the Kirk for offices, for product packaging, and for warehousing.
Her business is named after Irene Baker, a friend 30 years Katherine's senior, who used to invite her for tea when she was a young mother of five. Irene would use her best china to give her younger friend, and many others, a special treat during their busy lives. Irene earned the nickname "Lady Baker" because she loved the finer things in life. Now Katherine tries to carry on that legacy, offering her customers fine tea, and the chance for a refreshing respite whenever they need it.
The Royal Commonwealth Society 2018 Observances
March 2018
On Monday, March 12, 2018 the PEI Branch of the Royal Commonwealth Society held its Commonwealth Day observance at the Kirk of St. James, celebrating the theme "Towards a Common Future."
The well attended event featured the presentation of all of the flags of the Commonwealth's 54 member nations by local Sea, Army, Air, and Navy League cadets. As the flags were marched into the sanctuary, the Honourable Tracy L. Clements, Chief Justice of the Supreme Court of PEI, read out the names of the nations they represented.
The Guest of Honour, representing the Lieutenant Governor, was the Honourable Michele M. Murphy, Justice of the PEI Court of Appeal, who read Her Majesty the Queen's Commonwealth Day message. It read in part:
"We all have reason to give thanks for the numerous ways in which our lives are enriched when we learn from others. Through exchanging ideas, and seeing life from other perspectives, we grow in understanding and work more collaboratively towards a common future. There is a very special value in the insights we gain through the Commonwealth connection; shared inheritances help us overcome difference so that diversity is a cause for celebration rather than division…. Voluntary effort, by people working as individuals, in groups or through larger associations, is so often what shapes the Commonwealth and all our communities. By pledging to serve the common good in new ways, we can ensure that the Commonwealth continues to grow in scope and stature, to have an even greater impact on people's lives, today, and for future generations."
Six Commonwealth "affirmations" were read out by Island students from Commonwealth countries, focusing on "human worth," "stewardship of the earth," "equality, justice and peace," "the primacy of love," "unity in diversity," and "creating a better future."
Music for the event was provided by the band of the Prince Edward Island Regiment, and by the Red Island Quartet. The quartet features the Kirk's four Choral Scholars: Tara Llewellyn, Melissa Lewis, Ian Soloman, and Gage Waugh. They did the Kirk proud with their seven well received choral selections. The congregation sang the hymn, "Let There Be Peace on Earth."
Among the dignitaries in attendance were the Honourable Percy Downe, senator, Wayne Easter, MP for Malpeque, Sean Casey, MP for Charlottetown, the Honourable Richard Brown, Minister of Communities, Land and the Environment, and senior representatives of the RCMP and Charlottetown's Naval Reserve and Militia communities. Introductions were made by Horatio Toledo, President of the Royal Commonwealth Society – PEI Branch, and the Master of Ceremonies was Evelyn Monkley, the society's Vice-President.
The organizing committee for this year's event included the Kirk's Dr. David Ashby, Past President of the Royal Commonwealth Society, PEI Branch and his wife, Christy Ashby, who organized a wonderful reception following the event in the church hall, provided by the Presbyterian Women.
Pamela Stewart completes term as Action Clerk of Session
March 2018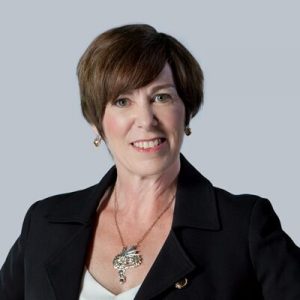 During the Kirk's Annual General Meeting on March 4, 2018, Kirk Elder Pamela Stewart completed six years as an active Elder and better than four years as the Action Clerk of Session. Additionally, she recently completed six years of service as the Kirk's Presbytery representative. In the latter capacity Pamela attended the General Assembly in Vancouver in 2015, where issues like assisted dying and human sexuality were front and centre.
One of the early challenges Pamela faced as Action Clerk was to assist in deciding how to proceed after receiving the Howard Coles aged building audit, which outlined numerous deficiencies in the fabric of our beloved Kirk. She became a member of the Facility Review Committee charged with examining the report and various other reviews of the Kirk's physical condition, and making recommendations back to the congregation on options for a response. This committee reached an important milestone in 2018 when it recommended that the Kirk consider undertaking a major capital campaign to restore and improve the Kirk, and engaged Campaign Coaches to complete a fundraising feasibility assessment.
Pamela's years as Action Clerk saw the Kirk provide a strong offering of Session-led activities, including winter chili luncheons and games; Easter "sunrise" breakfasts; and autumn "Welcome Back" BBQs.
Among the memorable events that Pamela helped organize while Action Clerk was a Tribute Concert on September 11, 2015 in honour of Kirk Elder, the Honourable Barbara Hagerman, who was terminally ill with cancer. The event was intended as an opportunity for members of the congregation and the wider community to express thanks to her for her many contributions to provincial life, including a term as Lieutenant Governor. The Honourable Barbara Hagerman had been extensively involved in the choral music scene in PEI and indeed, Canada, throughout her life. The concert brought together musical groups that she had been involved with over her lifetime, including the Summerside Presbyterian Choir, the Summerside Community Choir, the Kirk Senior Choir, and also a number of musicians whose talents she had highlighted during her tenure at Government House. The concert packed the Kirk to capacity.
Looking back on her tenure, Pamela said: "I have been honoured to serve with numerous Session members and I can truly say these are a tremendous group of people. Every meeting has been full of fellowship and humour, which is an incredible environment in which to work. Much is accomplished, but in an atmosphere where the time flies."
During the recent Annual General Meeting Pamela was presented with a bouquet of roses and a crystal vase, inscribed, "Presented with gratitude to Pamela Stewart, Action Clerk of Session, Kirk of St. James, 2014-2018," and received the thanks of the congregation for four purposeful and activity-filled years of leadership.
Pamela is a lawyer specializing in family law with the firm Key Murray Law and is very active in the work of the PEI Bar Society and the Canadian Bar Association. She will continue as a member of the Kirk Senior Choir and will also serve on the Human Resources and Worship Committees.
Letter of Repentance to the LGBTQI Community
February 2018
For a number of years now, the Presbyterian Church in Canada has been studying issues related to human sexuality, and specifically looking at how it can be more welcoming of and inclusive towards, members of the Lesbian, Gay, Bisexual, Transgender, Queer and Inquiring (LGBTQI) community. As part of the churches response to the overtures that it is considering on this topic, on February 12, 2018, the Rev. Peter Bush, Moderator of the Presbyterian Church in Canada, issued an historic letter of repentance to members of the LGBTQI community. It reads in part:
"The 2017 General Assembly asked the moderator to write a letter of repentance to the LGBTQI community. Although, in 1994, the General Assembly received The Human Sexuality Report that called on The Presbyterian Church in Canada to repent of its homophobia and hypocrisy, the church to this point has not acted on that call and publicly repented. However, the 2017 General Assembly established a listening committee, the Rainbow Communion, to create a safe space for LGBTQI persons and others to tell of their experiences in the church, and to report back to Assembly no later than 2020. This letter of repentance is an interim response between the call of the 1994 document and the work of the Rainbow Communion.
"God calls the church to be a welcoming community where we welcome one another as Christ has welcomed us. In our hypocrisy the church offers welcome to heterosexual people but often shuns people who do not identify as heterosexual. In this homophobic environment, the church is often an unsafe place for people to name their sexual identity and orientation. For the church and our congregations failing to be safe and welcoming places, we are sorry, and we repent.
"In this homophobic environment we are all harmed. Families have felt and still feel the church's expectations to condemn and reject children, siblings and parents who do not look, act or speak in ways congruent with the restrictive gender definitions of the church and society. Friends feel pressure to break off connections. For the ways our congregations judge and exclude others based on restrictive gender definitions, we are sorry, and we repent.
"No one should ever be harmed for naming their sexual identity. We live in a culture and a world where LGBTQI persons are bullied, brutalized and sometimes killed. Moreover, bullying and violence occurs in congregations or in the community with the support of church members. Presbyteries and sessions fail to hold church members and church leaders accountable for their hateful acts. For our failure to protect those attacked and brutalized, we are sorry, and we repent. For our ongoing failure to hold people accountable for abuse and hatred, we are sorry, and we repent.
"Even when congregations and church members do not participate in emotional and physical bullying, the church's silence condones such action when it fails to speak against the violence. By not speaking clearly and in a public way, the church is "part of the evil of the world, 1of its violence, neglect, and injustice." Moreover church members wanting to speak fear that if they speak they will be ridiculed and bullied themselves. For our silence and silencing others, we are sorry, and we repent.
"The church by its actions and inaction, speaking and silence, creates hurt, fear and distrust among LGBTQI persons who are part of the church. Deaf to the cries of hurt, fear, and distrust, the church dismisses the pain experienced by LGBTQI persons. For our unwillingness to recognize the hurt and fear our actions and attitudes have caused, we are sorry, and we repent.
"Bullying, hatred and silence, have led to emotional and physical pain and personal struggle, which sometimes have led people to attempt or commit suicide. The church has not offered and continues to fail to offer care to those who face this struggle and pain. For our failure to offer tender care to the hurting, we are sorry, and we repent.
"Irrational fear in the church has created a climate where there is often more interest in condemning what is considered sin than in listening to the struggles and stories of human beings. The church is often quick to speak and slow to listen. Further, the church is quick to name and condemn certain sexual practices, while at times being slow to name and confront sexual abuse and marital unfaithfulness. For our hypocrisy, we are sorry, and we repent. For offering judgment and condemnation rather than gospel hope, we are sorry, and we repent.
"The church too often puts more emphasis on a person's sexual identity than on their identity in Christ. When the church ignores the gifts present within the body of Christ, it fails to appreciate all that God has for the church and fails to see God's glory revealed in all people. For our unwillingness to affirm the spiritual gifts present in all the people of the church, we are sorry, and we repent.
"By God's grace, led by the Holy Spirit, and seeking to be faithful disciples of Jesus Christ we repent and desire to go in a new way and to be a welcoming church centered in the Triune God of grace who draws us into community. As such a community, we will seek, as individuals and congregations, to welcome all, as Jesus Christ has welcomed us. We will reach out, rejoice together in fellowship, and seek holiness as we worship, pray, sing, eat and listen together for God's Word speaking to the whole church. We commit ourselves to pray with one another, weep with one another, and rejoice with one another.
"This letter of repentance is neither the beginning nor the end; it is but a part of a longer conversation. This conversation is being taken up in part by the Rainbow Communion, a committee with the important mandate of creating a safe space where experiences of LGBTQI people will be told and heard."
Raymond Moore inducted into PEI Rugby Union Hall of Fame
January 2018
Long time Kirk choir member and Elder Raymond Moore has been named to the initial class of inductees into the PEI Rugby Union's Hall of Fame.
After Raymond moved to the Island from Bermuda in 1976, he noticed that the game of rugby was dormant. With a small band of fans to back him up, Raymond set about re-introducing the game with the establishment in 1977 of the Abegweit Rugby Club in Charlottetown. Aware that the future of the sport lay with Island youth, Raymond worked to get the game included in the offerings of local high schools, starting with a team led by Mike Lloyd at Charlottetown Rural.
Raymond was a member of the Board of the Canadian Rugby Union from 1978 to 1983. He founded the Island club league featuring teams from across then province and also founded the Island Referee Association in which he served for eighteen years from 1977 to 1995.
Both as manager and coach, Raymond guided the first Island team to compete in the Canada Games in 1981, and continued to coach at the provincial level and with the Abbies senior team during the next two decades.
His Kirk family congratulates Raymond on this significant honour.
Jim Macnutt authors new book
January 2018
Kirk Elder Jim Macnutt has published a new book; his first novel. Entitled On Five Dollars a Day: An Innocent Abroad in Europe 1965, the story is based loosely on his own travels in Europe that year.
"I have been telling stories about this trip I took in 1965 to family and friends, particularly people in the office," Jim said. "And, one of the assistants there said, 'why don't you write a book about your travels.'" Jim decided to do just that.
According to publisher, Austin Macauley Publishers: "In the summer of 1965, Will MacIntosh, a naïve but highly inquisitive twenty-two year old from Canada, embarks on a life-changing excursion through Europe. Arriving there, he finds the trauma of the Second World War still fresh on every street and in every person's mind. While his high-minded purpose is to investigate the political complexities of the region and envelop himself in its cultural treasures, Will finds himself drawn to more earthy pursuits – usually alcoholic but occasionally amorous in nature."
Reviewer Pamela Borden wrote of the book: "On Five Dollars A Day is both an amusing and thoughtful trip down memory lane in which the author recounts his first solo backpacking trip to Europe in 1965. The skillfully crafted fictionalized memoir is very funny in places as we experience Will spreading his wings on the continent before starting law school. The descriptions of both the architecture Will sought out and his observations and insights into post World War II Europe are fascinating. As a result of his first taste of the continent Will grows and will never lose his zest for travel. I really enjoyed the book and the author's portraits of Venice and Belgravia in particular were beautifully written."
This is far from being Jim Macnutt's first publishing adventure. His other credits include: Heritage Houses of Prince Edward Island: Two Hundred Years of Domestic Architecture; Inside Island Heritage Homes: Two Hundred Years of Domestic Architecture on PEI; The Historical Atlas of Prince Edward Island: The Way We Saw Ourselves; Building for Democracy: the Architectural History of the Legislative Buildings of NS, PEI, and NB; Building for Justice: the Historic Courthouses of the Maritimes; Historic Furniture of Prince Edward Island; and A Century of Service: Rotary on Prince Edward Island.
Jim is already at work on a second novel, this one, set in 2005, is about a road trip from Berlin to Moscow, and deals with the transition from the Cold War to the "War of Putin." The trip, like the foray around Europe set in his first novel, is a voyage that Jim has also taken.
Kirk Members receive Senate of Canada 150th Medals
November 2017
Two members of the Kirk family have been honoured by the Senate of Canada for their volunteer work in the community. Both Jim Macnutt and David Hooley were among 24 Islanders recently presented with the Senate of Canada 150th Medal by Lt.Gov. Antoinette Perry and Island senators Diane Griffin and Mike Duffy, at a Government House ceremony.
The presentations are antiqued bronze table medals featuring the Senate badge on one side and a picture of the Senate chamber on the other. The medals were designed by Lt. Col. Carl Gauthier, the Director of Honours and Recognition in the Department of National Defence, and were struck by the Royal Canadian Mint.
Said Senator Serge Joyal, Co-Chair, Advisory Working Group on the Senate 150th Anniversary Medal: "As the Senate celebrates a milestone anniversary of its own, this is an appropriate time to celebrate the volunteer work of Canadians. Not only are the medals highlighting the contributions of Canadians – from coast to coast, from all walks of life and from varied backgrounds – they also highlight the wide diversity of the people whose efforts make Canada great."
Jim Macnutt is a Charlottetown lawyer with the firm Macnutt & Dumont and is known for the many books he has authored on the Island's built heritage, and for his active support of the Rotary Club. He was the recipient of the Queen's Golden Jubilee Medal in 2002, the Prince Edward Island Preservation Award in 2011, and the Law Society of Prince Edward Island's Distinguished Community Service Award during the same year.
David Hooley is the Senior Partner in the Charlottetown law firm Cox and Palmer and has pursued a variety of charitable undertakings over the years. He has received the Canadian Bar Association Distinguished Service Award and the Vocational Service Award presented by the Rotary Club of Hillsborough in 2015. He has served as President of the Greater Charlottetown Area Chamber of Commerce, President of the PEI Chamber of Commerce, Chair of the Atlantic Provinces Chamber of Commerce and is a past Director of the Canadian Chamber of Commerce.
Both gentlemen are Elders of the Kirk. We congratulate each of them on this outstanding achievement.