Welcome to St. James Presbyterian Church (the "Kirk")!
 You can access the services on our YouTube channel at  Kirk StJames – YouTube
We are a community of faith that meets in a beautiful heritage building locat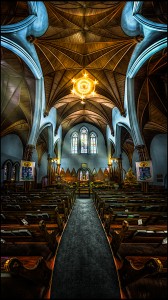 ed in the downtown area of Charlottetown, Prince Edward Island.
If it is your first time to St. James – or you are returning to St. James after a time away – please know that we are happy to have you and we hope that you find our website engaging and our community welcoming.
Of course, if you are able to join us please know that our worship is "relaxed" traditional in style, dress code comfortable, and "family-like" in our welcome.
All are welcome. We hope to see you on Sundays at 10:30 a.m.!
The Church Office is open Tuesdays to Fridays from 9 a.m. to 2 p.m. 
Quilt Raffle
Raffle Tickets for the quilt are available.  The quilt is on display in the Upper Hall during Fellowship. Draw date is December 16. Please speak to any member of Session about purchasing 1 (for $10) or 3 (for $25), contact the office at 902-892-2839, kirkstjames@pei.aibn.com or purchase online at https://fundraiser.support/Kirk2023.
Advent 2 – Giving Sunday – Sunday, December 10th, 10:30 a.m.
We are taking part in two projects this year, the Salvation Army's Christmas Food Hampers Program and the Upper Room Christmas Bag Project.  For more information please see the included announcements.
Christmas Giving Projects 2023
During the upcoming Advent season we are called upon to pay it forward to a world desperate for the hope that we know in Christ. We are to offer the world the Good News that, through Christ's coming, there is hope, and there will be peace on earth, and joy and love enough for all! This year we are participating in two projects, the Salvation Army Christmas Food Hampers Program, and the Upper Room Christmas Bag Project. Any support you can offer is deeply appreciated.
 Mission & Outreach Christmas Project – Upper Room Christmas Bag
As a continued effort to serve our community, we will once again be working with the Upper Room and taking part in their Christmas Bag project.  They have asked for donations of mitts & gloves, hats, scarves and toiletries. Also needed are gift cards for Dollarama, Giant Tiger, Walmart, and Tim's, in any denomination.  A basket will be available in the Sanctuary at the entrance to collect the items and gift cards. Please bring the items in by Tuesday, December 12th.  Let's make this Advent season a time of hope and joy by helping with this project!
 Christmas Food Hampers
As we did last year, to help us focus on making this Christmas one filled with giving, we have partnered with the Salvation Army, who have handed out hundreds of Christmas food hampers to families and individuals in need within our community. The Salvation Army is asking for monetary gifts that will be used towards the purchase of items needed for families in need to make a Christmas dinner.  If you wish to make a donation, then please donate by using the Christmas Food Hampers envelope located on the pew hooks in the Sanctuary and placing it in the offering plate on Sunday or dropping it off to the Church Office by Tuesday, December 12th. We thank you for any help that you are able to give.  Please note that your donation will be added to your annual tax receipt.
 Advent 3 – Christmas Nativity Story Pageant & Luncheon – Sunday, December 17th, 10:30 a.m.
Please join us as we retell the story of the first Christmas Night. Following the Nativity Story Pageant we will be having our Christmas Luncheon. We are asking people with last names that start with A-M to bring sandwiches and N-Z to bring sweets.
 Advent Taizé Service – Wednesday, December 20th, 6:30 p.m.
Join us for an evening prayer service, led by Rev. Dr. Kay Diviney, featuring the simple, beautiful songs of the Taizé Community in France.  During the busy Advent season, in an especially challenging year, this quiet, candlelit service offers the chance to gather quietly in meditative common prayer. As winter's darkness deepens, you are invited to step into the light.
 Advent 4 – "The Light Shines in the Darkness" – Sunday, December 24th, 10:30 a.m.
Invite your friends and family to the Advent 4 service. In this special service we will celebrate four of the gifts of Christmas and a baptism.
 Christmas Eve Service – Sunday, December 24th, 6:30 p.m.
Please join us for our Christmas Eve Service of lessons and carols.
New Year's Eve Morning Service – Sunday, December 31st, 10:30 a.m.
Join us as we look forward to the year ahead and share the gifts of our hearts and our hopes for 2024.