May 2020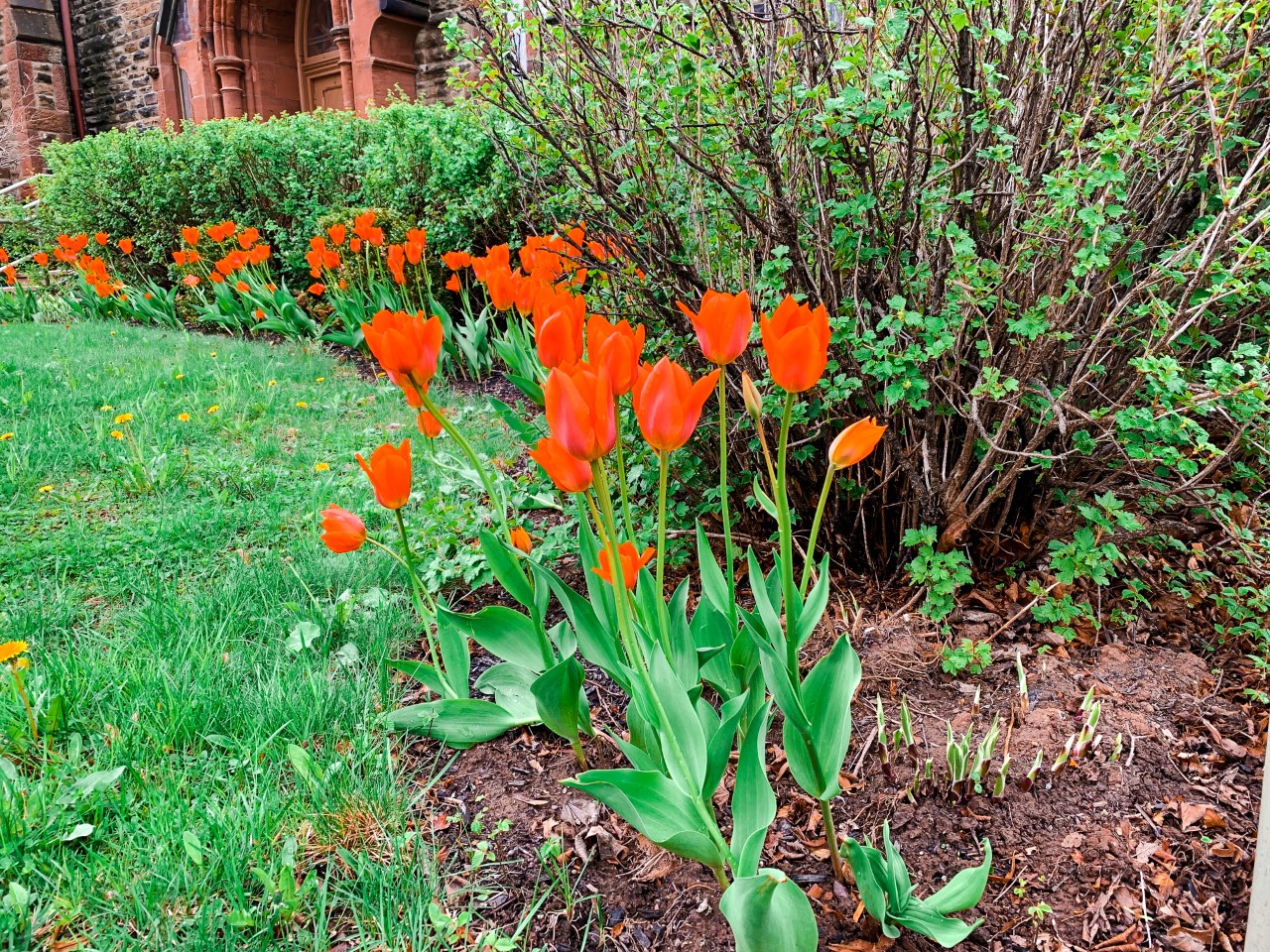 A lovely display of salmon-orange tulips is currently enhancing the façade of the Kirk of St. James. The hundred tulips were planted last fall as part of a Royal Canadian Legion initiative to mark the 75th anniversary of the Liberation of the Netherlands by Canadian and Allied forces on May 5, 1945.
The bright orange tulips echo the national colour of the Netherlands, which is orange, in honour of the name of their royal family, the House of Orange-Nassau. The colour also nicely compliments the Island red sandstone in the Kirk's Pownal Street façade.
Similar tulips were planted at 1,100 schools across the country, and have been accompanied by an education guide to explain the shared history between Canada and the Netherlands, including the role Canada played in liberating the Netherlands in 1945. A total of 1.1 million "Liberation75" tulip bulbs were planted across Canada last fall, in honour of the 1.1 million Canadians who took part in the Second World War effort.
In September 2019, Her Royal Highness, Princess Margriet of the Netherlands, presented an initial gift of 'Liberation75' tulip bulbs to 95 year old Canadian veteran Mr. Don White at Het Loo Palace. The gift was symbolic of the 100,000 tulip bulbs that the Netherlands will present to Canada in 2020, to commemorate and celebrate that it is 75 years since the liberation of the Netherlands. Mr. White was a member of the Royal Canadian Dragoons, the regiment that liberated the Dutch town of Leeuwarden in April 1945, towards the end of a nine-month military campaign to free the Netherlands from German occupation. White is the last living member of his troop.
White described one of his main memories as the "joy" the Dutch conveyed as they were freed from German occupation: "They hardly knew how to express themselves," said White. "They would be singing, they would be dancing. They'd be jumping up and down, they'd be crying, they'd be laughing. It was just something that's hard to describe."
That gratitude is still widely felt today. Canada is fondly remembered by the Dutch for ending the oppression under the Nazi-German occupation. Following the liberation of the Netherlands, a warm friendship was established with Canada that is still enjoyed today. These commemorative tulips are a poignant reminder of the ultimate sacrifice Canadians made in Europe and the enduring gratitude of the Dutch in ending the reign of tyranny in their country.