April 2021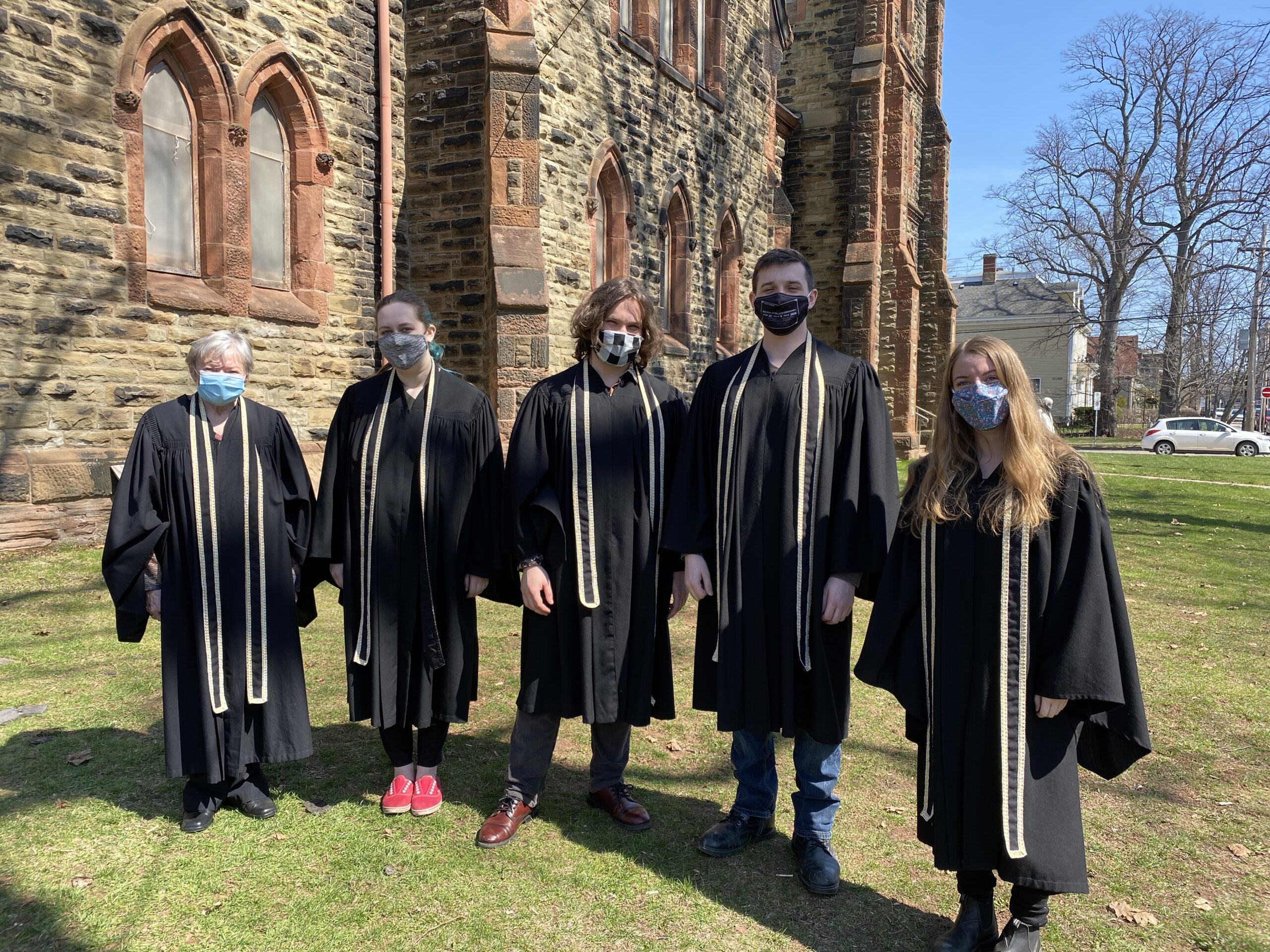 On Sunday, April 25, 2021, the Kirk enjoyed its last scheduled choral selection from its Choral Scholars, a magnificent Anthem, "Hear my Prayer" by Mendelssohn. Following the selection, David Robinson, the Clerk of Session, thanked the Choral Scholars for their many contributions to Kirk life, as follows:
"This is the last Sunday of this academic year for our wonderful Choral Scholars. So I want to take a few minutes to thank them, on behalf of Rev. Kay, Session, their colleagues in the choir, and the congregation at large.
"They have grown musically to a tremendous degree since they first joined the Kirk choir. We celebrated their accomplishments with them as they joined the National Youth Choir, and participated in many delightful recitals over the years. We have enjoyed their musicianship and companionship a great deal. We hope they are not leaving us forever! They will always be welcome to come back and join the choir, or join us in the pews. They can consider the Kirk home.
"Two of our scholars are graduating from UPEI this spring with their Bachelor's degrees: Tara Llewellyn and Ian Solomon.
"Ian Solomon, who has completed five years with us, is receiving a Bachelor of Music degree. He has made all of our difficult anthems possible. He is a very capable and beautiful tenor and has been very loyal. We are hoping that he will pursue further vocal studies in Germany. (And drop in to sing with us whenever he can!)
"Tara Llewellyn (another five year scholar!) is our second graduate, receiving a Bachelor of Music Education degree. We have watched her grow into such a beautiful musician and person. She has a perfect voice for the Kirk choir and is always willing to do anything asked, as in the difficult solo in this morning's Anthem. She will be busy teaching, we hope on PEI, in the next academic year.
"Gaige Waugh finished his Bachelor of Music last spring, and we acknowledged that milestone last year by mail, because we were in lockdown and couldn't do so in person. This year we were happy to have him come back for a fifth year with us while he did part time studies. When Frances McBurnie met Gaige to play his UPEI audition, she liked him immediately, and knew that she wanted to have him become one of our Choral Scholars. He has certainly fulfilled Frances' prediction of his importance to this Church. He will be working toward further studies in voice.
"We hope that Melissa Lewis will return as a Choral Scholar in the next academic year, as she continues studies for her music degree. Her alto voice is simply the best and her musical skills are amazing. We will be delighted if she continues her musical journey with us, and look forward to her making major contributions to our worship services in the year ahead.
"I have some gifts to present to our Choral Scholars – some from their choir friends, and some from Session, on the congregation's behalf. These gifts all come with our deep gratitude and warmest thanks for all you have contributed to the life of the Kirk."