February 2019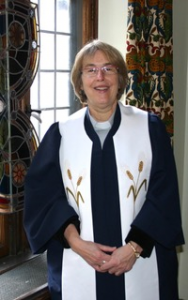 The Rev. Dr. Kay Diviney will be temporarily leading the congregation of the Kirk of St. James, between February 1 and August 31, 2019. She is providing maternity leave coverage for Rev. Amanda Henderson-Bolton. Rev. Amanda and Chad Bolton had their firstborn child, Grayson Allister James, on January 22.
Speaking of her appointment, Rev. Kay said: "I regard the people of the Kirk as my church family. I am so grateful to be able to share worship and ministry among fellow followers of Christ over the coming months — especially for such a joyous reason!"
The white stole that Rev. Kay is wearing in the photo, above, was a gift of the Kirk on the occasion of her ordination in 2013.
Rev. Kay returned to Charlottetown a few months ago, after living and working for a number of years in Montreal, where she was the Associate Minister, and then the Acting Lead Minister at the Church of St. Andrew and St. Paul. While there she conducted weekly worship, led many small group studies, as well as monthly Taize evening prayer services, worked with new members, and led confirmation classes. Rev. Kay also served as Interim Moderator at St. Columba-by-the-Lake Presbyterian Church in the Presbytery of Montreal.
Rev. Kay is no stranger to the Kirk. She worshipped here during the years that she taught English and Irish literature in the English Department at the University of Prince Edward Island, and taught the flute in the university's Music Department. At the Kirk, Rev. Kay was a member of the Choir (2001-09), convened and co-convened the Mission and Outreach committee (2003-08) served on the Congregational Life committee (2006-07), and was both an Elder and Deputy Clerk of Session (2008-09). She also worked here as a Pastoral Assistant during the summer of 2011. Most recently, she provided our Advent bible study: "An Adult Christ at Christmas."
Rev. Kay will be working for .75 time during her appointment. She plans to hold office hours three days a week. She can be contacted at: revkay@pei.aibn.com.
A highly accomplished academic, Rev. Kay holds a Bachelor of Arts degree from Augustana College, a Master of Arts degree from Arkansas State University, a Doctor of Philosophy degree from the University of British Columbia, and a Master of Divinity degree from Knox College.
We look forward to having Rev. Kay share her many and diverse talents with us in the months ahead.