January 2018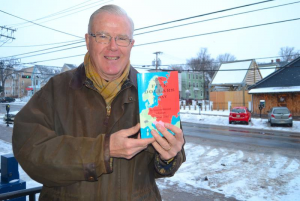 Kirk Elder Jim Macnutt has published a new book; his first novel. Entitled On Five Dollars a Day: An Innocent Abroad in Europe 1965, the story is based loosely on his own travels in Europe that year.
"I have been telling stories about this trip I took in 1965 to family and friends, particularly people in the office," Jim said. "And, one of the assistants there said, 'why don't you write a book about your travels.'" Jim decided to do just that.
According to publisher, Austin Macauley Publishers: "In the summer of 1965, Will MacIntosh, a naïve but highly inquisitive twenty-two year old from Canada, embarks on a life-changing excursion through Europe. Arriving there, he finds the trauma of the Second World War still fresh on every street and in every person's mind. While his high-minded purpose is to investigate the political complexities of the region and envelop himself in its cultural treasures, Will finds himself drawn to more earthy pursuits – usually alcoholic but occasionally amorous in nature."
Reviewer Pamela Borden wrote of the book: "On Five Dollars A Day is both an amusing and thoughtful trip down memory lane in which the author recounts his first solo backpacking trip to Europe in 1965. The skillfully crafted fictionalized memoir is very funny in places as we experience Will spreading his wings on the continent before starting law school. The descriptions of both the architecture Will sought out and his observations and insights into post World War II Europe are fascinating. As a result of his first taste of the continent Will grows and will never lose his zest for travel. I really enjoyed the book and the author's portraits of Venice and Belgravia in particular were beautifully written."
This is far from being Jim Macnutt's first publishing adventure. His other credits include: Heritage Houses of Prince Edward Island: Two Hundred Years of Domestic Architecture; Inside Island Heritage Homes: Two Hundred Years of Domestic Architecture on PEI; The Historical Atlas of Prince Edward Island: The Way We Saw Ourselves; Building for Democracy: the Architectural History of the Legislative Buildings of NS, PEI, and NB; Building for Justice: the Historic Courthouses of the Maritimes; Historic Furniture of Prince Edward Island; and A Century of Service: Rotary on Prince Edward Island.
Jim is already at work on a second novel, this one, set in 2005, is about a road trip from Berlin to Moscow, and deals with the transition from the Cold War to the "War of Putin." The trip, like the foray around Europe set in his first novel, is a voyage that Jim has also taken.