November 2017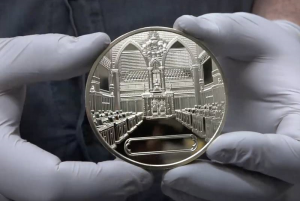 Two members of the Kirk family have been honoured by the Senate of Canada for their volunteer work in the community. Both Jim Macnutt and David Hooley were among 24 Islanders recently presented with the Senate of Canada 150th Medal by Lt.Gov. Antoinette Perry and Island senators Diane Griffin and Mike Duffy, at a Government House ceremony.
The presentations are antiqued bronze table medals featuring the Senate badge on one side and a picture of the Senate chamber on the other. The medals were designed by Lt. Col. Carl Gauthier, the Director of Honours and Recognition in the Department of National Defence, and were struck by the Royal Canadian Mint.
Said Senator Serge Joyal, Co-Chair, Advisory Working Group on the Senate 150th Anniversary Medal: "As the Senate celebrates a milestone anniversary of its own, this is an appropriate time to celebrate the volunteer work of Canadians. Not only are the medals highlighting the contributions of Canadians – from coast to coast, from all walks of life and from varied backgrounds – they also highlight the wide diversity of the people whose efforts make Canada great."
Jim Macnutt is a Charlottetown lawyer with the firm Macnutt & Dumont and is known for the many books he has authored on the Island's built heritage, and for his active support of the Rotary Club. He was the recipient of the Queen's Golden Jubilee Medal in 2002, the Prince Edward Island Preservation Award in 2011, and the Law Society of Prince Edward Island's Distinguished Community Service Award during the same year.
David Hooley is the Senior Partner in the Charlottetown law firm Cox and Palmer and has pursued a variety of charitable undertakings over the years. He has received the Canadian Bar Association Distinguished Service Award and the Vocational Service Award presented by the Rotary Club of Hillsborough in 2015. He has served as President of the Greater Charlottetown Area Chamber of Commerce, President of the PEI Chamber of Commerce, Chair of the Atlantic Provinces Chamber of Commerce and is a past Director of the Canadian Chamber of Commerce.
Both gentlemen are Elders of the Kirk. We congratulate each of them on this outstanding achievement.