August 2019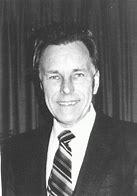 On July 13, 2019 one of the large soccer pitches at the Winsloe Soccer Complex was formally named the Tom Wallis Field. Tom was a valued member of the Kirk congregation, before he passed away in December 2017.
Tom, an air force veteran, had two loves – flying and soccer.
Tom's dream was to have a vibrant soccer community on PEI, a dream that he worked tirelessly over decades to fulfil. Arriving on the Island in 1972, Tom approached the City of Charlottetown about organizing soccer for the community, and within a short while, aided by a handful of dedicated volunteers, he organized the Charlottetown Youth Soccer Association. At first the organization consisted of just four teams and fifty players. Tom remained at the helm of the Association until 1985, at which time there were over 1100 registered players, and a second league for girls, established in 1977.
In 1975, Tom took over the operations of the PEI Soccer Association, assuming a role that would occupy him for the next 17 years. Tom formed an officials' association as well and trained new referees himself. According to the PEI Sports Hall of Fame website, Tom was "instructor, administrator, fund raiser, and public relations manager, too."
In recognition of the seminal role Tom played in the development of soccer on PEI, he was named Sport PEI Administrator of the Year in 1979, received the Canadian Soccer Association Award of Merit, and in 1998 became the only Islander to receive a life membership in the national organization. He was inducted into the PEI Sports Hall of Fame as the first inductee in the soccer category, in 2006.
It is only fitting that now a soccer venue dedicated to developing the sport among Island youth bears his name. The Kirk congratulates Tom's family on this significant posthumous honour.