November 2018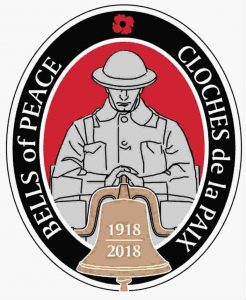 For centuries, church bells have been rung to mark joyous occasions – weddings, coronations and the arrival of peace after war. This year marks the hundredth anniversary of the signing of the First World War armistice on November 11, 1918. To mark the occasion, the Kirk and all Charlottetown places of worship that are fitted with bells, will ring them 100 times at sunset, 4:44 pm. Similar bell ringing will take place across Canada at local sunset time.
This ringing of the "Bells of Peace" is a joint project of Veterans Affairs Canada and the Royal Canadian Legion. Says the Legion: "The Royal Canadian Legion was born from the ashes of the First World War. As Canada's largest veterans' organization and in partnership with Veterans Affairs Canada, we have been handed this torch of remembrance by our founders to hold high and to never forget the sacrifices made in the name of Canada and for Canadians. On 11 November 2018, 100 years will have passed since the signing of the armistice that officially ended [the First World War]. As a tribute to all Canadians that served in this horrific struggle we are producing a program of remembrance for those from that era — an event that allows Canadians, if only for a moment, to stop, to remember and to feel, perhaps for a second, the joy that peace brought after so much death and destruction.… Our hope is all who hear the Bells will stop and focus on the loss and sacrifice both on the battlefield and at home."
At the Kirk, the ringing of the "Bells of Peace" is being organized by Heritage Committee member Ian Scott. He will be joined by a number of congregation members at sunset on November 11 to toll the Kirk's bell and remember all those who fought and served in the First World War, and especially the eight members of the Kirk family who made the ultimate sacrifice during that devastating conflict.