April 2018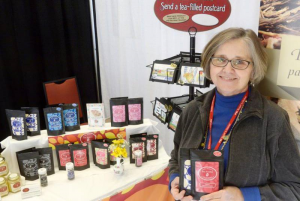 Kirk member Katherine Burnett has moved the back-room part of her successful tea business, Lady Baker's Tea Trolley, into facilities in the Kirk's basement.
A member of the Tea and Herbal Association of Canada, Katherine has been operating her tea business for a decade. She mostly sells wholesale in the Maritimes, but also provides teas for sale at the Charlottetown Farmer's Market and through her online sales outlet at: ladybakerstea.com. Recently her teas have been winning markets elsewhere in Canada, especially in Alberta and Saskatchewan locations, while her website sees a lot of American custom. Her company's premium loose leaf teas (black, green, white, oolong and herbal) are ethically produced at the finest tea gardens in Asia and Africa. The business produces approximately 40 custom blends, some of which incorporate dried berries grown right here on PEI. Lady Baker's Tea supports Fair Trade and the Ethical Tea Partnership.
One of Katherine's popular products is the Post-teas, a trademarked item that is a decorated postcard that holds enough tea for two cups of loose tea and two sachets. It is a product designed especially for those who want something different than a simple postcard to send to acquaintances while on holiday.
Katherine will use her space at the Kirk for offices, for product packaging, and for warehousing.
Her business is named after Irene Baker, a friend 30 years Katherine's senior, who used to invite her for tea when she was a young mother of five. Irene would use her best china to give her younger friend, and many others, a special treat during their busy lives. Irene earned the nickname "Lady Baker" because she loved the finer things in life. Now Katherine tries to carry on that legacy, offering her customers fine tea, and the chance for a refreshing respite whenever they need it.