August 2018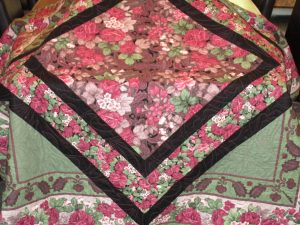 A group of talented quilters have hand-made a beautiful 80" x 86" quilt for the purpose of raising funds for the Kirk of St. James. The eye-catching quilt (shown above) features rosy bunches, leafy green foliage and white posies, surrounded by chocolate brown borders. It would look stunning in your bedroom, or serve as a treasured Christmas gift or wedding present for loved ones.
The quilt was lovingly crafted by Christy Ashby, Helen Bartlett, Heather Henry-MacDonald, Valerie Moore, Marilyn Nicholson, Mar Thomson and Karen Murray. The first five listed are members of the Kirk, while the remaining two are our benefactors. The Kirk extends warmest thanks to all seven talented ladies for their kindness in making this fundraiser possible.
The quilt will be raffled, with the draw taking place later this fall. Tickets are $2.00 each or 3 for $5.00. They may be purchased from Christy Ashby at church, or from Amy Holloway in the Kirk office during office hours, Tuesday to Friday, 9:00 am to 2:00 pm.
Funds raised by the raffle will support a variety of Kirk programs and activities. Your support for this worthy enterprise is encouraged.