May 2018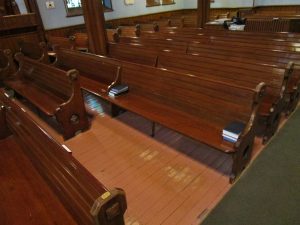 If you have walked up the central aisle at the Kirk recently, you will have noticed that half a pew is missing on the north side. This need not be a cause of concern! The missing seating was purposefully removed as part of our ongoing efforts to make the Kirk more accessible, by providing a suitable seating area for those in wheelchairs or using walkers. Advice received from the Council for People with Disabilities had indicated that a central pew was the one best suited to this purpose.
The Management Committee arranged for this work in consultation with Josh Silver, Program Director of the Holland College Heritage Retrofit Carpentry Program. Many developers and communities are seeking to refit or re-use older structures like the Kirk, and as a result, demand for heritage retrofit carpenters is high. In this Holland College program, students learn the original construction techniques that were used centuries ago, and how to replicate them by combining traditional skills with the latest technology. The program components include timber frame carpentry, restoration and renovation, finishing, energy efficiency, and architectural history. A student of the program, Leif Hammarlund, did the work on the renovated Kirk pew, and has submitted a proposal to refit one of the front pews as well, in order to accommodate disabled access for members of wedding and funeral parties. Lief also repaired a badly cracked pew in the back south-east corner of the Sanctuary.
This improvement to Kirk accessibility follows our action in 2002 to install a wheelchair ramp at the front entrance to the Kirk. Murray Holmes was instrumental in having the ramp done at that time. Last year the lane side of the ramp's support was damaged, and Murray Holmes again came to the rescue, arranging for a recent repair, and doing paint touch ups on the supports and rails last week.
Thank you, Murray and Leif for helping to make the Kirk more accessible to all!