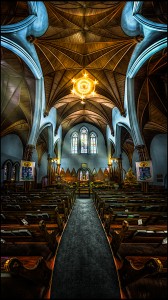 Reminder:  This week (Dec. 7th) is our Helping Hampers campaign!  Please, if you're able, consider giving in one or both of the following ways:
Food item donations OR monetary donation (special envelopes are in the pews).  This year, we have been asked to purchase the bread for the Helping Hampers.
Welcome to St. James Presbyterian Church (the "Kirk")!
We are a community of faith that meets in a beautiful heritage building located in the downtown area of Charlottetown, Prince Edward Island.
If it is your first time to St. James – or you are returning to St. James after a time away – please know that we are happy to have you and we hope that you find our website engaging and our community welcoming.
Of course, if you are able to join us please know that our worship is "relaxed" traditional in style, dress code comfortable, and "family-like" in our welcome.
For those of you who have children we have nursery coverage for children from birth to age three and two Children's Worship classes: for children age 4 to 7  we have a Children's Worship class, and for children age 8 to 11 we have our Following Jesus class.
All are welcome. We hope to see you.